Canyon Fortaleza - Bordas
Serra Geral National Park
Mirante Trail: The whole route is covered by the border of the gigantic walls to reach the top of the viewpoint with its 1,167 meters of height from which you can see the entire coastline and the coastal plain of the southern tip of Santa Catarina.
Cascata Tigre Preto: beautiful cascade that falls from the top of the cliff in a sequence of 4 falls totaling almost 1,000 meters in height. The hint of excitement is that the trail is made over the waterfall, through the water to follow to the Secret Stone.
Secret Stone Trail: The Secret Stone, located inside the crater of the canyon, is a monolithic block 5 meters high supported on a small base of 50 cm, giving the impression that it will fall at any moment.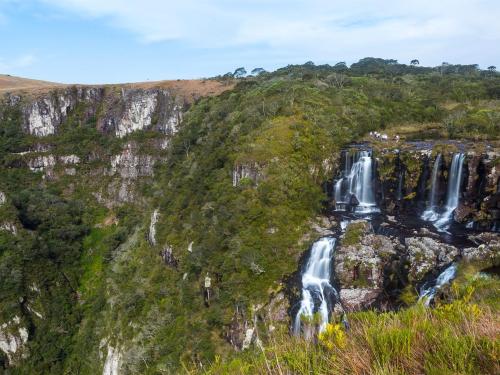 There will be approximately 8 hours of activity, including carriage.
Difficulty level easy / light and moderate.
See what you need to bring for your trip in Check list .