Canyon Itaimbezinho - Bordas
National Park Aparados da Serra
Canyon Itaimbezinho and Indians Crowned - PANORAMIC Tracks by the Rim
Vertex Trail: easy trail from where you can see the beginning of Itaimbezinho Canyon (vertex). Along the trail you can see the waterfalls Véu de Noiva and the Swallows that fall from a height of 700 meters, towards the bottom of the canyon, but ends up turning into mist before reaching it. The trail runs 1.4 km along the edges of the canyon.
Elbow Trail: Walk along a road to a viewpoint where you can see the immensity of the Itaimbezinho Canyon walls, reaching 720 meters deep. The route is easily accessible with 6 kilometers (round trip) and takes around 3 hours to be done. Open only until 3pm.
Canyon Coronado Indians: A short trail leads to the edge of this Canyon from where you can contemplate the crater adorned by a gigantic waterfall. Also it enjoys a privileged view of the cutouts of the mountain range, the Morro do Campestre and the coastal plain.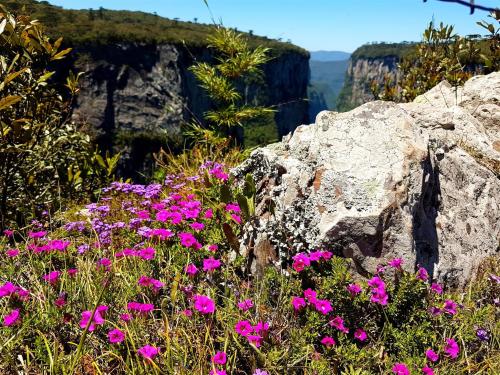 There will be approximately 6 hours of activity, including carriage.
Difficulty level easy / light.
See what you need to bring for your trip in Check list .