Ox River Trail
Itaimbezinho Canyon - Aparados da Serra National Park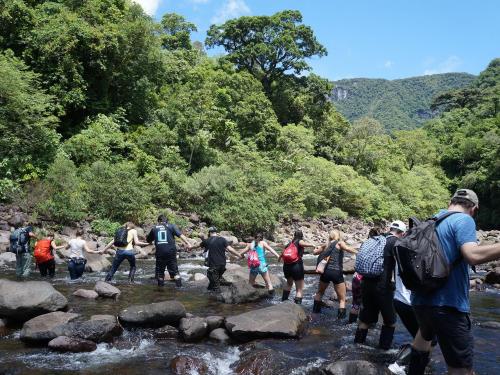 Trail of the Ox River - Trekking in Canyon Canyon Itaimbezinho - Praia Grande / SC
It is the turn to enter the immense slit of the Itaimbezinho Canyon (Aparados da Serra National Park) - a huge gorge that holds stunning scenery inside, where difficult access is naturally faced by those who enjoy great adventures!
There will be several river crossings with water between the knee and the waist. Most of the trail is traversed by the bed of the River of the Ox , walking on stones of rolled pebble. The hiking periods are interrupted for contemplation of the landscape , photography and river baths and waterfalls , in addition to the stop to reenergize with the trail snack!
The innumerable waterfalls, natural pools and gigantic walls , whose beauty makes the effort of the walk worthy, make the human being insignificant in the face of such greatness.
It will be about 7 hours of track.
Level of difficulty high / heavy. Wet trail!
See what you need to bring for your trip in Check list .